Commercial Cargo Vehicles (No Factory Installed Rear Seats) — If Equipped
Commercial cargo vehicles are not designed for use as a family vehicle and are not intended for carrying children in the front passenger seat. However, if you must carry a child in a vehicle without a rear seat, the passenger seat should be moved to the full rearward position and the child must be in a proper restraint system based on its age, size and weight.
WARNING!
NEVER carry a child in a rear facing infant carrier in a vehicle without rear seats. In an accident, serious injury or death may occur from the deploying passenger airbag.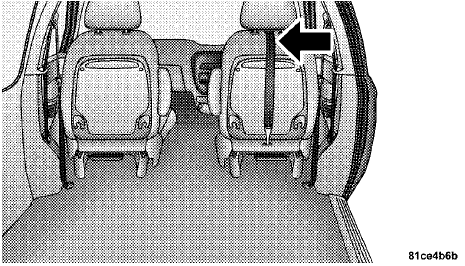 Commercial Child Restraint Tether Anchor
This vehicle is equipped with a child restraint tether anchor located on the lower rear of the front passenger seat. Use this tether anchor to secure only forwardfacing child restraints equipped with an upper tether strap.
WARNING!
Rearward-facing infant restraints must never be secured in the passenger seat of a vehicle with a passenger airbag. In an accident, a passenger airbag may deploy causing severe injury or death to infants riding in rearward-facing infant restraints.
See also:
Preparations For Jump-Start
The battery in your vehicle is located on the left side of the engine compartment. Positive Battery Post WARNING! • Take care to avoid the radiator cooling fan whenever the hood is raised ...
Transmission Limp Home Mode
Transmission function is monitored electronically for abnormal conditions. If a condition is detected that could result in transmission damage, Transmission Limp Home Mode is activated. In this ...
Wind Buffeting
Wind buffeting can be described as the perception of pressure on the ears or a helicopter-type sound in the ears. Your vehicle may exhibit wind buffeting with the windows down, or the sunroof (i ...