Supplemental Seat-Mounted Side Air Bags (SAB)
Supplemental Seat-Mounted Side Air Bags (SAB) may provide enhanced protection to help protect an occupant during a side impact. The SAB is marked with an air bag label sewn into the outboard side of the front seats.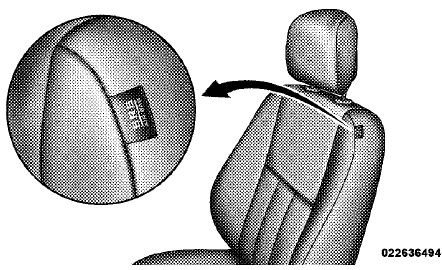 Supplemental Seat-Mounted Side Air Bag Label
When the air bag deploys, it opens the seam between the front and side of the seat's trim cover. Each air bag deploys independently; a left side impact deploys the left air bag only and a right-side impact deploys the right air bag only.
See also:
Gear Ranges
DO NOT race the engine when shifting from PARK or NEUTRAL into another gear range. ...
Styling Changes: More Effective than on the Sedan
Seeing it in the metal for the first time, we formed our initial reaction that the 200's new front and rear styling improve the convertible's appearance even more than the sedan's, the latte ...
Securing The Spare Tire
1. Assemble the winch handle extensions to form a T-handle and fit the winch T-handle over the drive nut. Rotate the nut to the left until the winch mechanism stops turning freely. This will allo ...