Wireless Ignition Node (WIN)
The Wireless Ignition Node (WIN) operates similarly to an ignition switch. It has four operating positions, three with detents and one that is spring-loaded. The detent positions are OFF, ACC, and ON/RUN. The START position is a spring-loaded momentary contact position.
When released from the START position, the switch automatically returns to the ON/RUN position.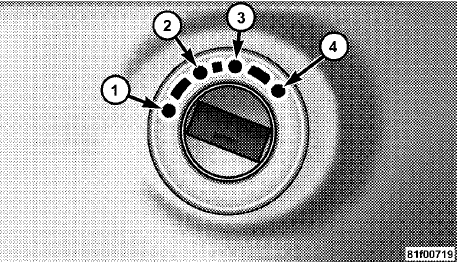 1 — OFF
2 — ACCESSORY
3 — ON/RUN
4 — START
See also:
Common Towing Definitions
The following trailer towing related definitions will assist you in understanding the following information: ...
Brake/Transmission Interlock System
This vehicle is equipped with a Brake Transmission Shift Interlock (BTSI) that holds the shift lever in the PARK position unless the brakes are applied. To move the shift lever out of the PARK p ...
Materials Added To Engine Oils
Do not add any supplemental materials, other than leak detection dyes, to your engine oil. Engine oil is an engineered product and it's performance may be impaired by supplemental additives. ...