A/C Air Filter
The filter is located in the fresh air inlet under the hood, behind a removable panel in the cowl on the passenger side of the vehicle, next to the windshield wipers. When installing a new filter, ensure its proper orientation.
1. Remove the access door in the cowl screen by pressing the retaining clips.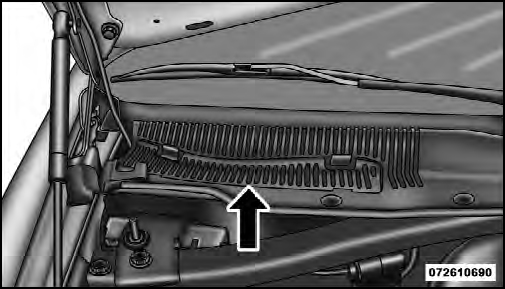 Access Door
2. Unsnap both ends and lift the filter access cover.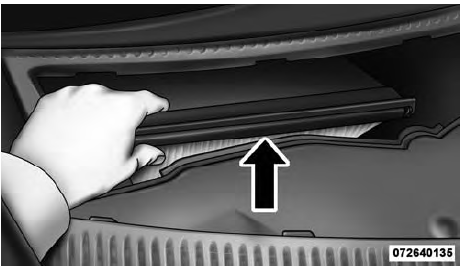 Filter Access Cover
3. Remove the used filter.
4. Install the new filter with arrows pointing in the direction of airflow, which is toward the rear of the vehicle (text and arrows on the filter will indicate this).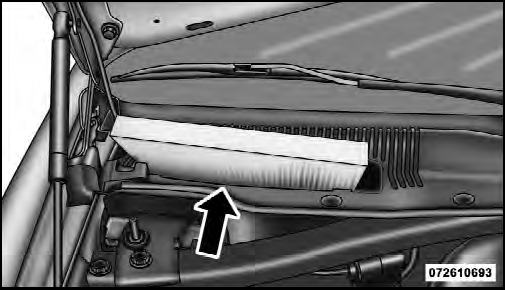 A/C Air Filter
5. Close the filter access cover.
Refer to the "Maintenance Schedule" for the proper maintenance intervals.
See also:
Transporting Pets
Air Bags deploying in the front seat could harm your pet. An unrestrained pet could be thrown about and possibly injured, or injure a passenger during panic braking or in an accident. Pets shoul ...
Driver And Passenger Advanced Front Air Bag Inflator Units
The Driver and Passenger Advanced Front Air Bag Inflator Units are located in the center of the steering wheel and on the right side of the instrument panel. When the ORC detects a collision requ ...
Pinch Protect Override
If a known obstruction (ice, debris, etc.) prevents closing the sunroof, press the switch forward and hold for two seconds after the reversal occurs. This allows the sunroof to move toward the c ...