American Petroleum Institute (API) Engine Oil Identification Symbol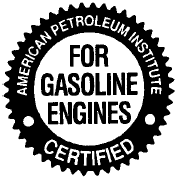 This symbol means that the oil has been certified by the American Petroleum Institute (API). The manufacturer only recommends API Certified engine oils.
CAUTION!
Do not use chemical flushes in your engine oil as the chemicals can damage your engine. Such damage is not covered by the New Vehicle Limited Warranty.
See also:
Electronic Brake Control System
Your vehicle is equipped with an advanced electronic brake control system that include Anti-Lock Brake System (ABS), Traction Control System (TCS), Brake Assist System (BAS), and the Electronic ...
Synthetic Engine Oils
You may use synthetic engine oils provided the recommended oil quality requirements are met, and the recommended maintenance intervals for oil and filter changes are followed. ...
Reset Auto Up
Should the Auto Up feature stop working, the window probably needs to be reset. To reset Auto Up: 1. Pull the window switch up to close the window completely and continue to hold the switch up fo ...