Manual Park Release — 8 Speed Transmission (3.6L Engine)
WARNING!
Always secure your vehicle by fully applying the parking brake, before activating the Manual Park Release. Activating the Manual Park Release will allow your vehicle to roll away if it is not secured by the parking brake or by proper connection to a tow vehicle. Activating the Manual Park Release on an unsecured vehicle could lead to serious injury or death for those in or around the vehicle.
In order to push or tow the vehicle in cases where the transmission will not shift out of PARK (such as a dead battery), a Manual Park Release is available.
Follow these steps to use the Manual Park Release:
NOTE:
To prevent the vehicle from rolling unintentionally, firmly apply the parking brake.
1. Remove the console storage bin to access the Manual Park Release lever.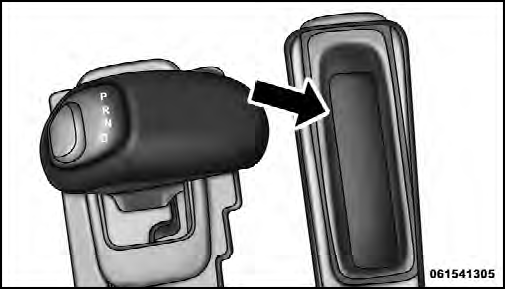 Console Storage Bin
2. Using a small screwdriver or similar tool, fish the tether strap up through the opening in the console base.
3. Insert the screwdriver into the slot in the center of the lever, and disengage the spring steel lever locking tab by pushing it to the right.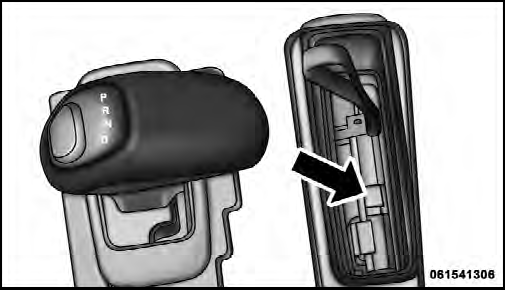 Locking Tab
4. While holding the locking tab in the disengaged position, pull the tether strap to rotate the lever up and rearward, until it locks in place in the vertical position.
The vehicle is now out of PARK and can be towed.
Release the parking brake only when the vehicle is securely connected to a tow vehicle.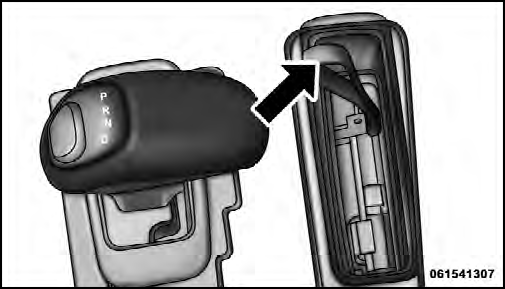 Tether Strap
To Reset The Manual Park Release:
1. Push the latch (at the base of the lever, on the rear side) rearward (away from the lever) to unlatch the lever.
2. Rotate the Manual Park Release lever forward and down, to its original position, until the locking tab snaps into place to secure the lever.
3. Pull up gently on the tether strap to confirm that the lever is locked in its stowed position.
4. Tuck the tether strap into the base of the console.
Reinstall the console storage bin.
See also:
Enhanced Accident Response System
In the event of an impact causing air bag deployment, if the communication network remains intact, and the power remains intact, depending on the nature of the event the ORC will determine wheth ...
Adaptive Cruise Control (ACC) Operation
The speed control buttons (located on the right side of the steering wheel) operates the ACC system. 1 — DISTANCE SETTING 2 — RES + 3 — SET - 4 — CANCEL 5 — ON/OFF 6 — MODE NOTE ...
Main Menu
Start a dialogue by pressing the Voice Command button. You may say "Main Menu" to switch to the main menu. In this mode, you can say the following commands: • "Radio" (to switch to t ...