Front Seat Cupholders
The cupholders are located in the forward edge of the center console.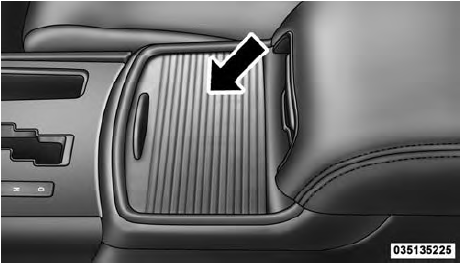 Retractable Cover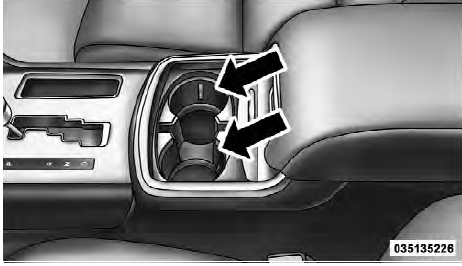 Front Cupholders
Heated and Cooled Cupholders — If Equipped
Your vehicle may be equipped with heated and cooled cupholders. The cupholders are designed to help keep warm beverages warm and cold beverages cool.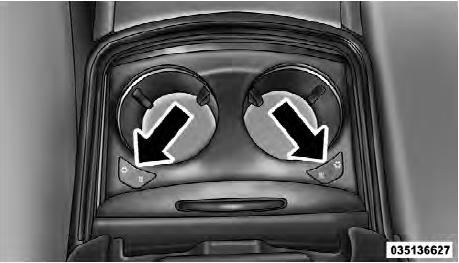 Heated And Cooled Cupholder Switches
Press the "Cold" symbol once to turn on the cupholder; press the symbol a second time to turn the cupholder off.
Press the "Hot" symbol once to activate the cupholder; press the symbol a second time to turn off the cupholder.
WARNING!
When using the cupholder in the "Heat" position, avoid contact with the heated portion of the cupholder in order to reduce the possibility of burns.
Persons who are unable to feel pain to the skin because of advanced age, chronic illness, diabetes, spinal cord injuries, medication, alcohol use, exhaustion or other physical condition must exercise particular care in order to prevent serious burn injury.
Keep the cupholder free of debris or stray objects when operated in the Heat position.
See also:
Interior Care
Instrument Panel Cover The instrument panel cover has a low glare surface, which minimizes reflections in the windshield. Do not use protectants or other products, which may cause undesirable r ...
Rechargeable Flashlight
The rechargeable flashlight is mounted on the right side of the cargo area. The flashlight snaps out of the bezel when needed. The flashlight features two bright LED light bulbs and is powered b ...
Chrysler Group LLC Customer Center
P.O. Box 21–8004 Auburn Hills, MI 48321–8004 Phone: (800) 247–9753 ...